Rev. Jerry's Adventures:
June 9, 2019
My adventure right now is to decide what to pack for the first part of my sabbatical. The sabbatical is broken up into 3 parts. The first part is when I fly from the Unity Convention in Kansas City to New Mexico, and then onto Arizona. This will take me up to the 4th of July.
The second part is when I go Ajijic by Lake Capala for three weeks in July. And the thrid part if when I fly to Spain and Ireland in Augst to September.
June 20, 2019
POOF, HE'S GONE!
Rev. Jerry left Sunday, June 16th for the annual Unity Conference being held at Unity Village.  We wish him much love and many blessings while he is at the conference.  He has already met and visited with Paul Smith, the author of "Is Your God Big Enough, Close Enough, You Enough?".  Rev. Jerry is sure to take Flat BOT with him every where he goes!
June 28, 2019
POOF, HE'S GONE!
But not completely . . . 
Rev. Jerry with Father Richard Rohr!  And the Christ in the Desert Monastery where he is currently staying.  Google this place, it sounds amazing!
July 3, 2019
So part one of my travels has come to an end and I am currently preparing to go Ajijic near Lake Chapala in Mexico. The Unity Convention was amazing as always. I love going to Unity Village and sitting in the prayer energy of the Silent Unity building. We had a young black, gay man absolutely blow us away with a talk that was straight from his heart to ours. Basically he challenged us to live our lives from what we know instead of from our beliefs. He got the longest standing ovation that I've ever seen at any convention. Of course a major highlight for me was meeting with author and mystic Paul Smith, who had a personal message from Jesus for me. It doesn't get much better than that. ,

After the convention I flew to Albuquerque, N.M. where I met up with Scott Wetzell and John Eby. Both of them have been part of ACIM for many decades and more recently part of the Way of Mastery study groups at Unity. We set out for Christ in the Desert monastery near Abigui and Ghost Ranch. Traveling with these two guys was a hoot and we laughed so hard so  many times. We could have made a great road-trip movie. The monastery is 14 miles down a dirt road and in a beautiful canyon. See the photo above. One of the spectacular things that I saw was the Milky Way at 2am with no other lights around. I have never seen so many stars in the sky or in the Milky Way. Additionally, we made a short trip nearby to the Shanti Christo land which is mentioned in the Way of Mastery as a place of healing. I felt some strong energies located at one point on the land. 
From there we went to my old stomping ground in Jemez Springs where I spent a year as a novice in the monastery there. It was great to go back and see where I spent my second year in the USA. We went back to Alburquerque and John and Scott flew back to California. I set off on a road trip on my own to the Grand Canyon. I got some great photos but they still don't do it justice. I was there for both sunset and sunrise having been surprised to be able to get a room for the night right at the rim. 
From there I drove to Sedona and met with Gary Bear who was here last year with Yapp. He and his lovely wife Flossie explored the real sacres sites and vortexes away from all the crowds of tourists. That night we had a spectacular sunset that blew even them away. What a blessing! The next day on a hike we explored the cental site that is dedicated to the Divine Feminine called 
the Birthing Cave. 
In the afternoon I went off to explore Jerome which is a town just like Nevada City that almost went extinct but was repopulated in the 1960's by the hippies. That night we went to the premiere of the Ron Howard movie Pavarotti which was part of the Sedona Film Festival. I highly recommend seeing it. 
The next day I went to Unity of Sedona and heard a great talk by their minister was over an hour long! I set off from there and drove through the hills and desert country from Flagstaff to Barstow. Makes you appreciate the scenery of Nevada County for sure. I stayed overnight with my third cousin Mary Farrell in Lone Pine and we caught up on family news. From there I drove up the back of the Sierras and came home for a brief respite before my next adventures. Happy 4th of July
Touching nature . . .
Upon leaving the monestary Rev. Jerry is experiencing the majesty of the Grand Canyon.  Sunset and sunrise at the Grand Canyon.
And a Sedona sunset, for good measure.
Rev. Jerry's sabbatical is from June 21th through September 20th.
July 11, 2019
REV. JERRY'S JOURNEY'S
Rev. Jerry is at the Namaste Community in Ajijic, Mexico! 
"Namaste Lake Chapala is a non-dual spiritual 
community in Ajijic, Mexico, 
                                           founded by 
James Twyman.  
With a strong focus on inter-faith peace, we draw from many spiritual and religious traditions. All are welcome."
July 16, 2019
REV. JERRY'S JOURNEY'S
Rev. Jerry is at the Namaste Community in Ajijic, Mexico!   As you can see, he's introduced James Twyman to Mr. BOT!
"Namaste Lake Chapala is a non-dual spiritual community in Ajijic, Mexico,founded by James Twyman.  
With a strong focus on inter-faith peace, we draw from many spiritual and religious traditions. All are welcome."
                                                                                                         Rev. Jerry's newest and coolest friend!
July 23,2019
REV. JERRY'S JOURNEY'S
Rev. Jerry will return to the Namaste Community in Ajijic, Mexico on Thursday.  In the meantime . . . he is enjoying time in San Miguel de Allende!  This is the San Miguel Cathedral.
Where's Waldo (hint, no striped shirt, no glasses!)?
Rev. Jerry and his mud-buddies!
July 31, 2019
REV. JERRY'S JOURNEY'S
On more than one occasion, Rev. Jerry gave the morning talk while at James Twyman's Namaste Lake Chapala retreat.  
And, in order to stay spiritually balanced, he also took his fellow retreat dwellers out for an evening(s) of karaoke and dancing!
In his travels to San Miguel de Allende and Guadalajara he found a wonderful variety of street art:
If you look closely at the sun it has the signs of all faiths as a border.
August 7, 2019
REV. JERRY'S JOURNEY'S
Apparently BOT man was the life of the party on the plane to Spain.  Who knows where BOT lost his eye, and Rev. Jerry  isn't talking:
Rev. Jerry is now in Spain, and he has been joined by his sister and niece!
Not one to be hung up on appearances, 
Rev. Jerry is enjoying the local transportation. . .
August 15, 2019
REV. JERRY'S JOURNEY'S
Rev. Jerry is exploring Spain in true pilgrimage fashion.  He reached the end of the Camino (Finestre or End of the World as Camino walkers call it).  
For the record, he said it wasn't as hard a predicted!
 The Lugo Cathedral is breathtaking!  
Rev. Jerry's comment: "Just a simple cathedral . . . 
BOT man at the end of the world!
Finally, Rev. Jerry found proof that our own John Martin is known everywhere!
August 22, 2019
REV. JERRY'S JOURNEY'S
Rev. Jerry is now in his homeland!  This picture is in Cork City, Ireland, with his family,
And then look who he found . . . 
August 29, 2019
REV. JERRY'S JOURNEY'S
Rev. Jerry is in his homeland! 
Entry way to Garnish Island Italian Gardens near Glengariff Co. Cork.  The peace of a garden.
And a wee bit o' play!
Jameson Whiskey Distillery (Middleton, Co. Cork) home of the world's largest distillery drum at 36,000 gallons.
Here too, the distillery mill water wheel . . . very cool!
Turns out, BOT man ditched Rev. Jerry at the Jameson Distillery.  Sigh.  
SEPTEMBER 5, 2019
REV. JERRY'S JOURNEY'S
Rev. Jerry's first Premier League Soccer game!
Emirates Stadium, London.
Arsenal v Spurs!
Then he is back in Spain!  Rev. Jerry in Playa del Ingles, coastal Spain.  
A museum displaying native traditional attire.  Rev. Jerry displaying current traditional attire.  Coastal artwork and lastly the natural beauty of Playa del Ingles
September 12
REV. JERRY'S JOURNEY'S
Rev. Jerry experienced a stargazing excursion in Las Palmas, Spain!  AstroGC offers mountain region star-gazing courses led by an astronomer. 
This picture was taken at night with just moonlight available.  The photo is a long exposure.  Heaven on earth, inner peace meets outer space.
In order, Christopher Columbus slept here, street scene in Las Palmas, and the ceiling of Cathedral Las Palmas
In order, Rev. Jerry always befriends a local, the Rose Window (exquisite stained glass), and proof that Spanish cactus looks remarkably like American cactus!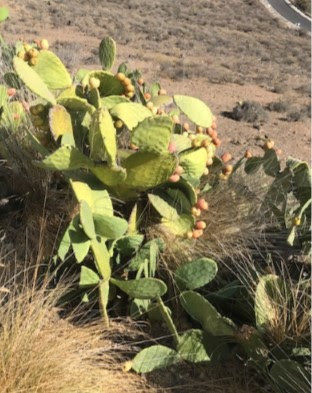 ********************
September 19
 . .  Rev. Jerry's first talk upon return will be on Sunday, September 22nd.